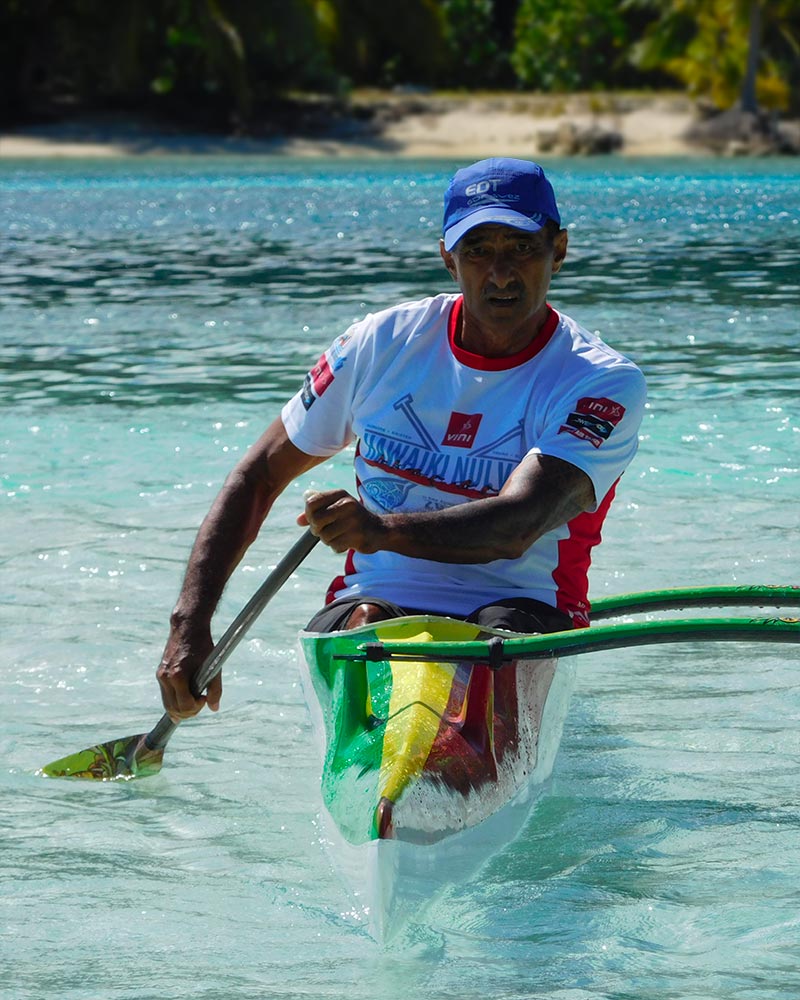 Pirogue V1 Ultimax
La pirogue V1 Ultimax a été conçue à Moorea sur des plans d'eau différents, calmes lagonaires, courants et mer croisée dans les passes, houle longue et mer agitée sous les alizés. Toutes ces conditions réunies ont permis de développer des prototypes et de finaliser la V1 Ultimax, tout en respectant, point par point, les demandes et les exigences des rameurs professionnels.
La pirogue V1 Ultimax-racing est la « version carbone » de la pirogue V1 Ultimax. Cette pirogue bénéficie des techniques de fabrication les plus innovantes et les mieux adaptées pour la compétition. Toutes les pirogues Ultimax utilisent une résine époxy bio et ultra performante à base de plantes renouvelables.
Ultimax V1 outrigger
Ultimax outrigger was designed in Moorea on different bodies of water, calm lagoon, sea currents and cross the passes, long swell and rough seas in the trade winds. All these conditions have allowed us to develop prototypes for several years by respecting, point by point, the demands and requirements of professional rowers. On the hull, we flattened the hull under the seat and stretched forth to improve the speed on the flat and to increase lift. The front, slightly rounded, has been raised to provide better maneuverability and completely remove the charging in the surf. The cockpit was raised to mount less water on plane agitated; it has been optimized to allow rowers perfectly wedged base.
The cover is utra-fluid to limit wind resistance and facilitate the flow of water. V1 Ultimax confirms his talents so much versatility with the exceptional qualities sought in the surf that made his reputation. V1 Ultimax outrigger-racing is the « carbon version » of the Ultimax outrigger. This boat has the most innovative manufacturing techniques and best suited for the competition. 
As usual, finish and build quality are always flawless with the infusion technique sandwich, flax fiber version or carbon fiber, with exemplary rigidity on both versions. Ultimax outrigger uses an epoxy resin, high-performance bio-based renewable plants.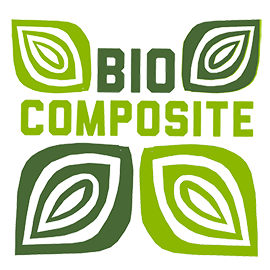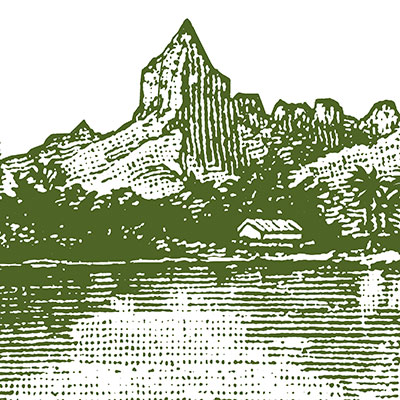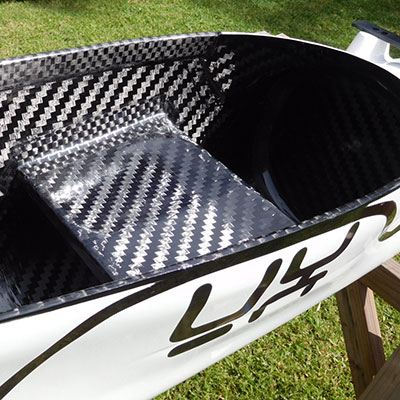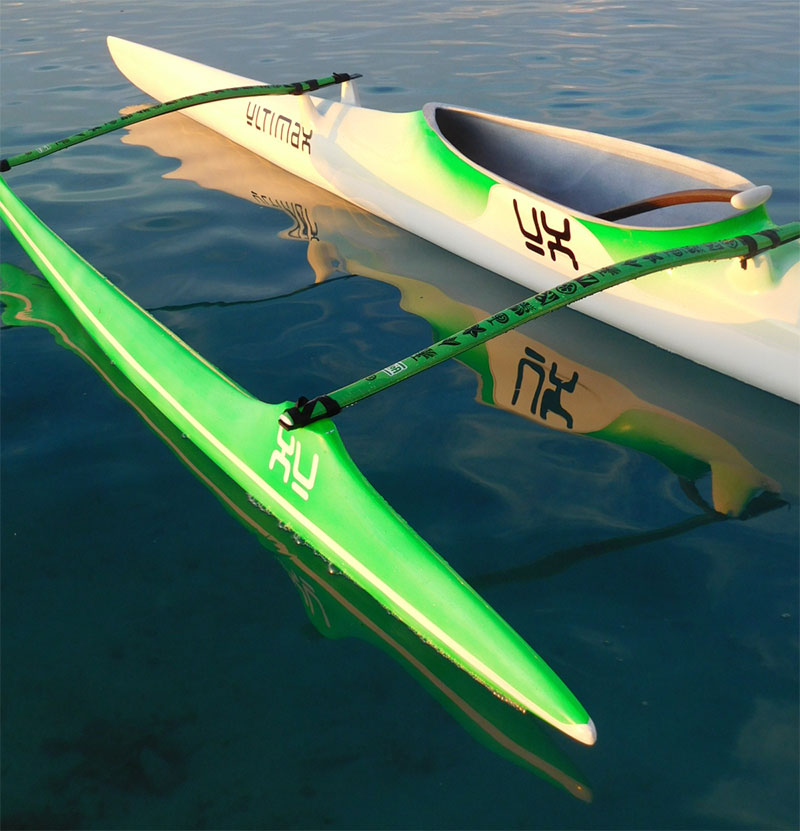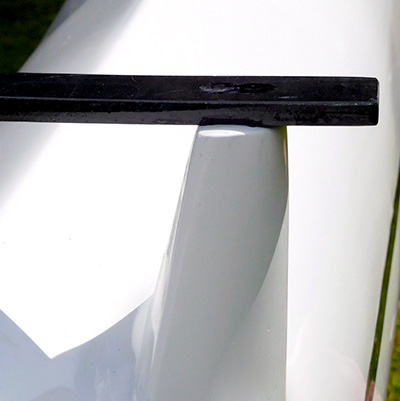 V1 Ultimax-racing
fibre de carbonE

Comprend une coque, un  balancier et une paire de iatos HOA en fibre de carbone (pompe de cale en option)
MATERIAUX : Fibre de carbone multi-axiale / sandwich-infusion / résine bio-sourcée stable aux UV / joint d'étanchéité
CARACTERISTIQUES
COQUE : Longueur = 7,10 m / Largeur au maitre-bau = 43 cm / Hauteur = 0,51 m / Poids coque nue = 9,5 kg / Poids complet (balancier + iatos) = 12,5 kg / Taille du rameur : de 1,50 m à 1,95 m / Poids du rameur : de 50 kg à 110 kg • BALANCIER (AMA) en carbone : Longueur = 2,73 m / Largeur = 11 cm / Poids = 1,9 kg • IATOS HOA en carbone : Longueur = 123 cm / Largeur = 8 cm / Poids = 480 g (unité)
DISTRIBUTION ET PRIX PUBLIC : Polynésie : 390 000 CFP / Export : 2 900 € HT / Autres territoires : nous consulter / Port et TVA en sus
PRODUIT SUR COMMANDE
DELAIS DE LIVRAISON : Moorea : 6 semaines / Polynésie : 8 semaines / France : 24 semaines selon groupage / Autres territoires : nous consulter
V1 Ultimax outrigger-racing: carbon fiber
With a carbon fiber balance and a carbon pair of Hoa iatos (Bilge pump optional)

MATERIALS: Multiaxial carbon fiber / Sandwich-infusion / Bio-base UV stable resin / Seal
FEATURES: HULL: Length = 7.10 m / Width maitre-bau = 43 cm / Height = 0.51 m / Weight = 9.5 kg bareboat / Total weight (balance + iatos) = 12,5 kg / Paddler size: 1.50 m to 1.95 m / Paddler weight: 50 kg to 110 kg • BALANCE (Ama): Length = 2.73 m / Width = 11 cm / Weight = 1.9 kg • IATOS HAO carbon: Length = 123 cm / Width = 8 cm / Weight = 480 g (unit)
DISTRIBUTION & PUBLIC PRICES: Polynesia: CFP 390,000 / Export: €HT 2,900 / Other areas: contact us
INC LIST INCL SHIPPING

PRODUCT TO ORDER
DELIVERY TIME: Moorea: 6 weeks / Polynesia: 8 weeks / France: 24 weeks (groupage shipping) / Other areas: contact us 

Comprend une coque en fibre de lin, un  balancier en fibre de carbone et une paire de iatos HOA carbone (pompe de cale en option)
MATERIAUX : Fibre de lin multi-axiale et renfort carbone / sandwich-infusion / résine bio-sourcée stable aux UV / joint d'étanchéité
CARACTERISTIQUES
COQUE : Longueur = 7,10 m / Largeur au maitre-bau = 43 cm / Hauteur = 0,51 m / Poids coque nue = 11,5 kg / Poids complet (balancier + iatos) = 16 kg / Taille du rameur : de 1,50 m à 1,95 m / Poids du rameur : de 50 kg à 110 kg • BALANCIER (AMA) : Longueur = 2,73 m / Largeur = 11 cm / Poids = 2,5 kg • IATOS HOA en carbone : Longueur = 123 cm / Largeur = 8 cm / Poids = 480 g (unité)
DISTRIBUTION ET PRIX PUBLIC : Polynésie : 290 000 CFP / France : 2 290 € HT / Autres territoires : nous consulter / Port et TVA en sus
PRODUIT SUR COMMANDE
DELAIS DE LIVRAISON : Moorea : 6 semaines / Polynésie : 8 semaines / France : 24 semaines selon groupage / Autres territoires : nous consulter
V1 Ultimax outrigger: flax fiber
With a flax fiber balance and a carbon pair of Hoa iatos (Bilge pump optional)
MATERIALS: Multiaxial flax fiber and carbon fiber / Sandwich-infusion / Bio-base UV stable resin / Seal
FEATURES: HULL: Length = 7.10 m / Width maitre-bau = 43 cm / Height = 0.51 m / Weight = 11.5 kg bareboat / Total weight (balance + iatos) = 16 kg / Paddler size: 1.50 m to 1.95 m / Paddler weight: 50 kg to 110 kg • BALANCE (Ama): Length = 2.73 m / Width = 11 cm / Weight = 2,5 kg • IATOS HAO carbon: Length = 123 m / Width = 8 cm / Weight = 480 g (unit)
DISTRIBUTION & PUBLIC PRICES: Polynesia: CFP 290,000 / France: €HT 2,290 / Other areas: contact us
INC LIST INCL SHIPPING
PRODUCT TO ORDER
DELIVERY TIME: Moorea: 6 weeks / Polynesia: 8 weeks / France: 24 weeks (groupage shipping) / Other areas: contact us
designed in moorea
The guarantee of well-known Tahitian expertise
L'accessoire indispensable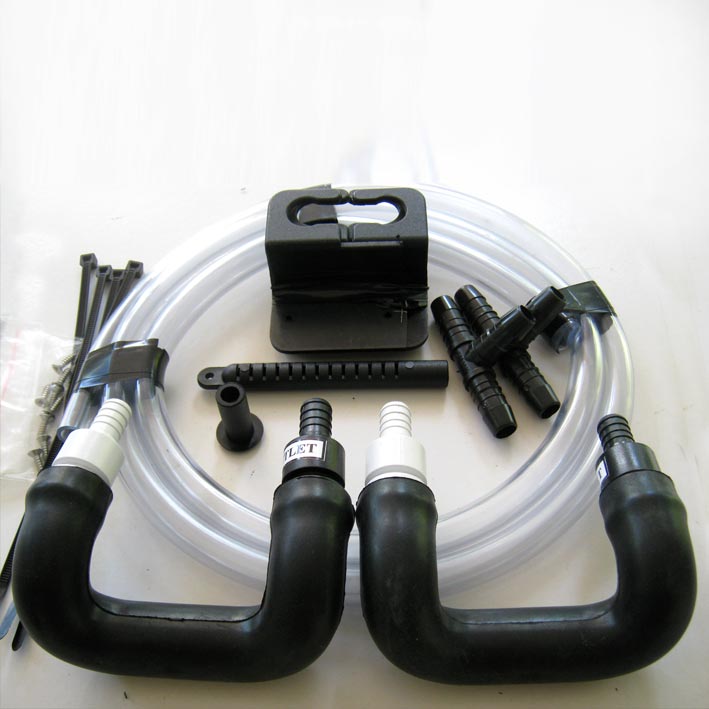 pompe de cale
CARACTERISTIQUES
Encombrement : 28 x 8 x 4 cm
Poids : 500 g
—————————————
DISTRIBUTION ET PRIX PUBLIC
Polynésie : 14 900 CFP (port : env. 1 900 CFP) / France : 117 € HT (port : env. 19 €) / Autres territoires : nous consulter
—————————————
PRODUIT SUR COMMANDE
Pump foot
FEATURES
Dimensions: 28 x 8 x 4 cm / Weight: 500 g
—————————————
DISTRIBUTION & PUBLIC PRICES
Polynesia: CFP 14,900 (shipping CFP 1,900) / France: € HT 117 (shipping € 19) / Other areas: contact us
—————————————
PRODUCT SALES ON ORDER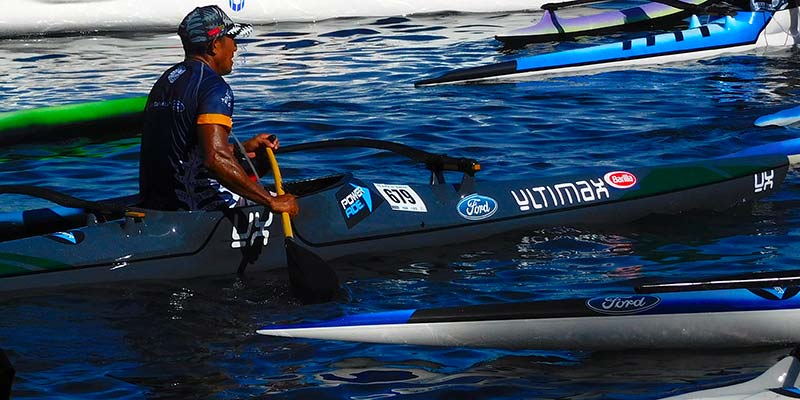 Contact Us
Workshop in Moorea island, French-Polynesia 
(+689) 87 72 31 32
www.facebook.com/vaamax

conditions générales de vente